It may appear that Hyperlend is just in the business of secured lending. But we assure you that it's much deeper than that for us. Our primary objective is to help people who need quick cash and we specialize in title loans in Texas. Whether that is through our short approval process, our fast turnaround time, or our insights on how to search for car title loans near me open now, we exist to help you access fast cash with your vehicle's equity!
Are you looking for fast cash title loans online in Texas? We are here to help. We value our customers and want to get your loan processed and approved. That explains why we spend a lot of time and attention on ensuring that the staff at Hyperlend is sufficiently qualified to respond to each of your underwriting needs. To us, it's more than simply dealing with clients looking for Texas car title loans. It's about improving your life by providing you with the options you need to get a grip on your finances.
The Best Terms And Rates For Texas Title Loans Near Me
At Hyperlend, we acknowledge the amount of work involved in looking for a lender and ensuring they're properly licensed in Texas. No one wants to deal with the hassle of applying with a lender only to find out their no actually offering title loans in the state! Instead, you can place your vehicle as collateral and obtain a loan that will enable you to navigate your emergency.
Title loans in Texas are quick and effective options, but most people get lost in determining which company to go to. Looking online for the top equity finance companies can lead you down a path where you have too many companies to choose from. Therefore, the question remains, "how do you proceed once you have determined that you need to set your car as collateral to secure a quick loan?" Below are the elements that you need to consider before seeking the services of a title loan company.
The Online Application Process For Texas Title Loans
If you're searching for online title loans in Texas, you probably have an emergency and, therefore, have no time for a lengthy application process. Naturally, you want things to be as convenient, simple, and smooth as possible.
There are numerous title companies from which you can choose, but we recommend that you go for the ones that offer an online application platform With such lenders, you can complete your title loan application from the comfort of your home without having to incur the additional expense of traveling to the company's location.
Secured Title Loan Lending Amounts In Texas
Before agreeing to secure the services of a direct lender, you need to know if their borrowing levels will adequately meet your demand. Typically, a client is provided with a certain percentage of the value of their vehicle. For instance, one of the companies you found while looking for title loans in TX might give you 75% of the cumulative value of your car, while others might give you up to 85%.
You do not necessarily have to borrow that full amount. All you need is the exact amount that will suffice for your emergency. After all, you don't want to take more than you need and end up experiencing difficulties paying the loan back.
Choose The Best Title Loan Provider Near Me In TX
People usually want to deal with entities they can trust and rely on whenever money is involved. The lender's reputation plays a crucial role in determining whether the company you found while looking for auto title loans near me is worthwhile. If you are still undecided on how to proceed in this regard, we recommend looking for online reviews from other individuals who have used the service of the same provider.
You can learn about their speed of processing, the application process, and their level of service.
At Hyperlend, the least you can expect from us is quality of service, reliability, and convenience. Our reviews speak for us, and we know what you must do to successfully apply with a licensed finance company in TX.
Paying back the loan company does not mean your relationship with them is over. You still need to repossess your car's title. Before completing the loan application process, you must ensure that you have in formal writing the time it will take your lender to return your title.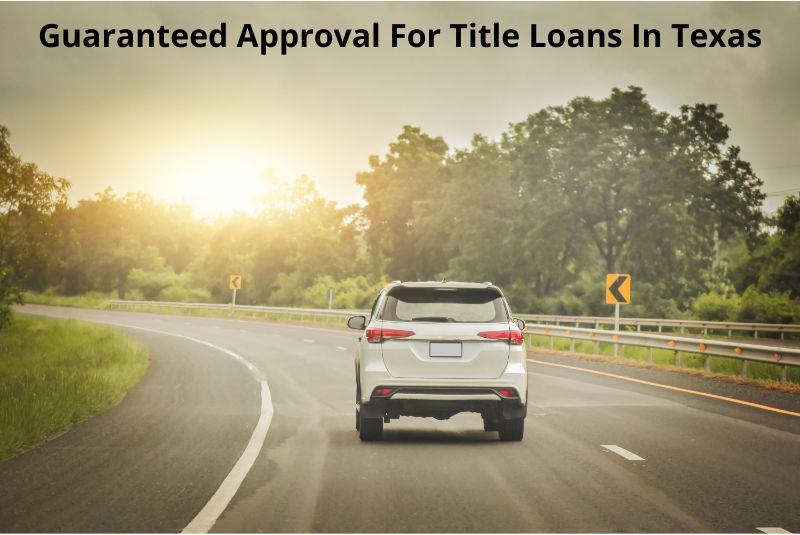 Can I Apply With A Texas Title Lender At Any Time Of The Day
Most Americans work regular business hours and that's often the same for auto title loan providers in Texas. This makes it hard for people to visit neighborhood lenders near them in Dallas or Houston during working hours. It even becomes more problematic when you consider that most lenders close their doors during weekends.
For most people, the options are usually to take off an hour or two of your work to visit a local company or drive to a location open on the weekend miles away. There's no need to deal with all that hassle just to get started with an application!. Anyone with a computer can get going with a quick and straightforward online application with Hyperlend! We work with customers all across Texas and most can apply for guaranteed funding with a newer vehicle that's paid off. You'll need a clean and clear auto title and the lender will use the pink slip as collateral!
You won't have to wait in a long line to cash out your vehicle's equity!. Submit your vehicle information and wait for a local vehicle title loan lender in TX to contact you. It often takes less than 15 minutes for them to review your application and get back to you with the results and a lending estimate. The minimum amount you can apply in Texas is $500, and the maximum funding amount is $15,000.
Car Title Loans For Bad Credit Applicants In Texas
Hyperlend has a vast referral network of secured lenders that we collaborate with, we have numerous locations to secure a title loan, but we will ensure that you get the best one.
Our experience dealing with poor credit applicants enables us to offer you a quick and reliable solution for local funding in areas such as Austin and Fort Worth. We will get you the best APR based on your vehicle's equity and not your credit history! If you are searching for online car title loans in Texas, we can assist you by taking your application and using your car's equity to get you the money.
With our service, you won't have to wait more than 24 hours for your secured loan application approval. Provided your vehicle is in fair condition and all your application details are valid, our team of highly trained underwriters will ensure that you get your title loan in less than 24 hours if you can complete the inspection and sign your lending contract.
Our goal is to help our customers by making their lives better and easier with convenient funding options even if you have bad credit. As such, we will find you the best deals in town for bad credit title loans. Our vast network of local title loan companies in Texas will work with all customers regardless of their past credit concerns!
Contact Us Now To Get A No Hassle Title Loan in Texas
Contact us at 800-971-3022 for car title loans near me in Texas, and our team will promptly respond to your needs. We offer a quick underwriting process and will connect you with a vehicle equity lender in Texas to get you funded and approved as quickly as possible!