It is easy to qualify for a title pawn if you have a paid off vehicle to use as collateral. Pawnbrokers will loan you a small percentage of the value of your car. The money is deposited just for you and you pay a fee to the broker for the use of the money. Their percentage may vary between pawn companies, but it will generally average 50% of the vehicle value. It is essential to realize that the less valuable the car is, the chances are the lender will loan you less than half of its value. It will help you to get cheaper loans if you want to learn how to pawn your car title.
You should realize that when title pawning, the car's value will be limited to about 50% of the loan value. Naturally, the value of the car will be determined by how it is customized and also by what the overall resale value is at the time. So if you want to cash out equity from a flashy sports car with low mileage, the value will be higher and probably up to 70% of the loan value.
How Does An Online Title Pawn Work
Title pawning is a fast way to get cash for the value of your vehicle. Some legitimate lenders that pawn car titles will offer 60-70% of your vehicle's value in the form of cash. Keep in mind, that pawning a car or truck is different than the more common online title loans you hear about these days.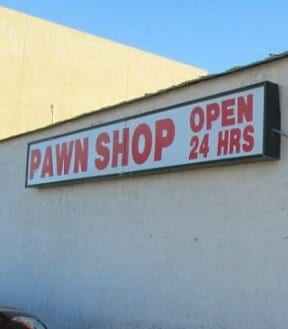 Whereas a car title loan lets you keep driving your car after handing over the vehicle title or pink slip, a title pawn means you give the lender or registered pawn shop the vehicle to hold as collateral. The company will keep possession of the car until the loan is successfully paid off. A title pawn shop will probably give you more money with a lower APR than your average title loan company, but you won't be able to drive your car to work, or anywhere for that matter during the life of the loan.
Get Maximum Cash When Title Pawning
Look for a reputable company that you can trust while knowing the rates and terms will be fair. This will help you to get the loan at a reduced rate with a company that you know follows all relevant state title lending laws. Look at several companies, read their information, and see if they are legitimate. For example, any company offering loans in Riverside will need to be licensed by the state and the same is true in most other parts of the country. Also ask, is there a fee or excessive interest charges that come with this loan? Does the online title pawn come with a balloon payment, and what is the interest rate? This is an important question to ask. You do not want to get into a loan that will not have a way out of it.
How about a car title loan where you can get a higher loan value? These are typically limited to only 50% of the car's value. These however need to be paid off faster. They will also come at a penalty rate. Anytime you consider title pawning your car for cash you should first compare and evaluate the different financing options and then go with a company that gives you the best rates and payments!
Online Title Pawn Requirements
Like most other secured loans, you will mainly need to hand over your vehicle as collateral for the amount financed. An auto pawn company will also require valid identification, and you'll need to show you can repay the borrowed amount. Try not to pile on more debt during the months before you apply for online title loans. Do your shopping at the title company. If you are still several months out from making your final payments, you do not want to apply for a title loan on a vehicle in which you are still several months out from the purchase.
If you have bad credit, do not fret. Good or decent credit is often not required for a title pawn. Title loan lenders ultimately want to know that you have enough verifiable equity in your vehicle to settle the account if payments become past due. They will not run traditional credit checks and will look beyond past due payments as that comes with the territory. Bad credit may result in a higher interest rate and less favorable terms but you can still drive your dream vehicle.
What Else Should I Expect When Title Pawning
Whenever you present a vehicle for title pawning, you should expect that the lender will require full collateral for the amount borrowed. This means that if you borrow $5,000, the car or truck that's put up as security will need at least that amount in equity. To see how much equity is available, you can compare your car's value to recent sales and estimate the current amount.
Another thing to consider is that these types of title pawns online can be processed and underwritten very quickly. Borrowers can fill out an application, submit their documents, and hear back from a loan underwriter in less than an hour. After that, you can take the vehicle to a title pawning location for the inspection and then pick up the cash after the loan agreements are reviewed and signed.
Get Cash After Approval For A Car Title Pawn
As most car title pawns take place at a pawn shop you can typically expect to have cash in hand within a few hours of submitting your application with a lender near you. Some applicants will complete the entire application process online or over the phone and then hand over the vehicle and keys in person. Once you hand over the vehicle you can opt to get the money in the form of cash or check. Some people will prefer to get cash wired straight to their bank account.