Irvine is constantly ranked as one of the top places to live in Southern California, if not the entire country. This part of Orange County is relatively safe and a great place to raise your children. But, as many of us know, it can be expensive to live in Irvine as the cost of living is very high and some people struggle with daily expenses. So what are you to do if there's a financial emergency and you must pay bills or deal with unexpected vehicle maintenance? It turns out that an auto title loan can be a viable way to get money in 24 hours or less, and California funding amounts can approach $10,000 for those who qualify!
Lending Requirements For A Title Loan In Irvine, CA
When considering a secured title loan in Irvine, CA, it is essential to ensure that you meet the requirements. This typically includes having a clear vehicle title in your name and providing proof of income. Other requirements may include your current registration documents from DMV and proof that the car is insured with full coverage in case it's stolen or wrecked.
The value of your vehicle determines the amount that can be borrowed and typical loan amounts in Irvine will range from $2,500 to $12,000. It is essential to carefully review the terms and conditions of the loan agreement and ensure you can comfortably make the monthly payments. It is also crucial to consider alternative options, as potentially risking your vehicle can have significant consequences. Speaking with a licensed financial advisor or lender for personalized guidance is always advisable before making any significant financial decisions.
Title Loan Lending Offers In Irvine For Bad Credit
In some cases, bad credit may not disqualify an applicant from receiving a title loan in Irvine. Unlike traditional bank loans, the borrowing decision is based on the value of your vehicle rather than your personal credit history. This can be a great option for those struggling to qualify for other types of loans due to their credit score.
However, it is essential to note that secured auto title loans typically come with higher interest rates and shorter repayment periods compared to traditional loans. Thoroughly review all terms and conditions before signing any agreements and make sure you have no trouble affording the monthly payments on time. If not, there could be potential consequences such as losing your vehicle or damaging your credit score. As always, you need to look at other financing options for credit issues. A bank loan or cash advance from a creditor is not likely, but some Irvine-based lenders may offer unsecured financing with a lower APR than what you see from a secured lender.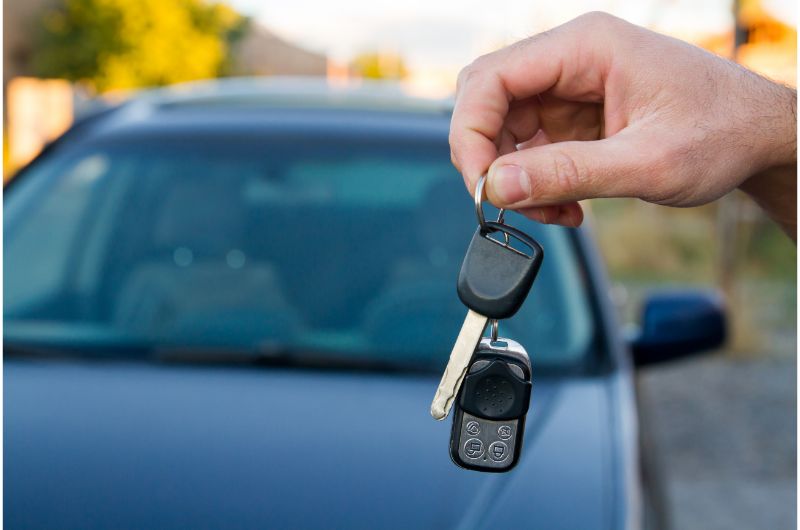 Apply Completely Online Or Go With A Title Loan Provider In Irvine
Some title loan applicants in Irvine may prefer the convenience of applying completely online. This allows for easy comparison shopping and a quick way to apply without leaving your home or office. However, it is always important to thoroughly review any lender before agreeing to a loan contract. Companies offering instant title loans in CA may have hidden fees or unfavorable terms that can cost you more money in the long run.
On the other hand, some borrowers may prefer the face-to-face service and personalized guidance provided by an Irvine title loan provider. This can provide peace of mind during a stressful financial decision and ensure that all terms and conditions are clear before signing any agreements. It is ultimately up to each individual borrower's preferences on how they want to apply for a loan based on their vehicle's collateral.
What To Look For When Choosing An Auto Title Loan Company Near Me In Irvine
When searching for a title loan company in Irvine, it is crucial to ensure they are licensed and compliant with California state laws. You should also carefully review their terms and conditions and look for hidden fees that may add up over time. It is also crucial to consider the customer service a lender provides as you want to understand all aspects of your loan agreement fully.
It is advisable to shop around and compare different lenders before deciding on your auto title loan, as each one may offer varying interest rates and funding amounts. It is ultimately important to choose a lender that you feel comfortable working with and one that provides multiple financing options that best fit your budget.
How To Apply For An Irvine Title Loan With Hyperlend
Are you ready to see what you can get for your vehicle's equity? Here at Hyperlend we make the title loan application process easy and convenient for residents in Irvine. Fill out our online form for a free quote, and one of our knowledgeable lending specialists will guide you through the rest of the process and what you need to get authorized for a quick cash loan.
We offer competitive interest rates and funding amounts with local equity lenders in CA of up to $20,000 based on the value of your vehicle's collateral. So don't wait any longer, apply with Hyperlend for a secure auto title loan in Irvine. Fill out our online form to get started or call us anytime at 800-971-3022 to complete your application over the phone!