A car title loan is a great way to quickly get the cash you need. But how do you qualify? That's a question we're commonly asked as many people want to determine what they need to get approved. Don't worry about those concerns as we'll walk you through the process of qualifying for a car title loan in Los Angeles, CA. We'll also touch on what to expect with monthly payments, loan amounts, and what happens if you have bad credit.
How To Qualify For An Auto Title Loan In Los Angeles
To qualify for cash in one day with an online car title loan in Los Angeles, CA, you must have a few things to get the ball rolling:
You must own your vehicle outright. You can't have any liens or loans against the vehicle's title.
You'll need a source of income. This can be from employment, disability benefits, child support, alimony, or any other regular source of income.
You have to provide a valid driver's license.
You must bring your vehicle and its title into the lender's office for inspection.
Once everything is in order, you can fill out an application here at Hyperlend and provide any other required documentation. A lender that's near you will then review your application and decide whether or not to approve your loan. If approved, you'll be able to get your cash fast, and the entire process can take less than one business day if you have all the paperwork in order!
Loan Amounts Based on Vehicle Value In Los Angeles
The car's current value and the state's lending restrictions determine the average amount for title loans in CA. You can often borrow up to $10,000 without concerns, and the car's title loan value determines that funding amount. If the car or SUV is worth $15,000, you may be approved to borrow between $3,750 and $7,500. And, of course, that amount entirely depends on what the value comes back at after the in person inspection. The inspection takes about 15 minutes, and that's how your lender verifies the car exists and is in the condition that warrants the estimated value.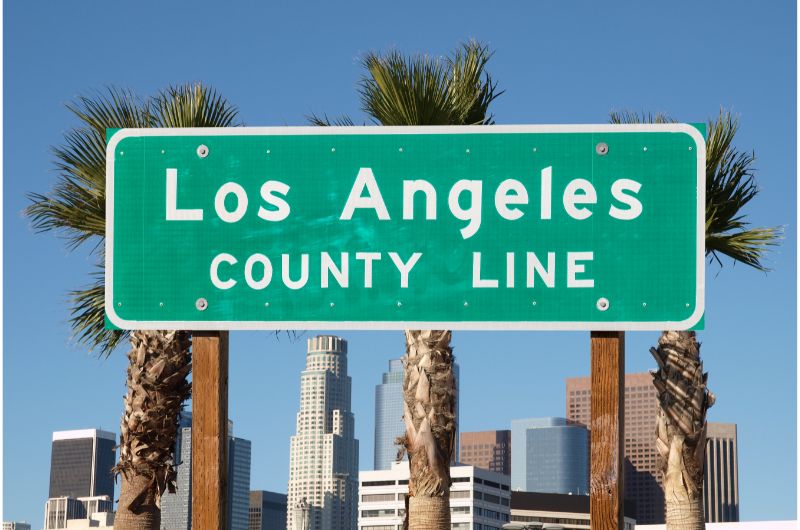 Bad Credit? No Problem With A Los Angeles Title Loan!
One of the great things about car title loans is that they're available even if you have bad credit. That's because the loan is secured by your vehicle's title rather than your credit score. So even if you have a really bad credit history, you could still qualify for a car title loan online! These collateral loans your car, truck, or SUV as security for the full loan amount and because of that, your credit history is not nearly as important as if you applied for an unsecured loan. Sure there may be instances where a lender runs a soft credit check. But those cases are rare, mainly to verify you're not currently in bankruptcy or to see if you're working with any other vehicle equity company.
Apply For 24 Hour Title Loan In Los Angeles With A Lender Near Me
Many customers we work with here in Southern California will opt to get started with an online application. They can do this entirely from their home and it takes less than 10 minutes to explain how much money you're looking for and your current vehicle situation. But what about those who prefer to apply for car title loans from a lending place in their neighborhood? In that case, Hyperlend has you covered as we work with multiple lenders located all throughout Los Angeles and the surrounding areas.
You can visit one of these locations, bring in your paperwork, finish the vehicle inspection, and get approved on the spot! The best part about car title loans in California is that you can get your loan proceeds within an hour after being approved. There's no need to wait for the money to hit your bank account or debit card. Instead, a local lender in L.A. can hand you the cash in person!
Monthly Payments For Los Angeles Auto Title Loans
Like any loan, you'll be expected to pay monthly car title loan payments in Los Angeles. The good news is that most lenders offer flexible repayment plans with competitive interest rates. These plans typically range from 12-36 months and can easily be set up for automatic payments so you never miss a due date. And if at any time during the loan term, you can pay off the balance early, there's no penalty for doing so! However, it's important to note that failure to stay current on the monthly payments can lead to a situation where the lender repossesses your vehicle.
Even after the car is repossessed and sold at auction, you may still owe money if the sale doesn't cover the full amount you borrowed! So it's important only to take out a car title loan if you're confident in making the payments on time and as agreed upon in your contract.
Tips To Know Before Applying For A Title Pawn Loan In Los Angeles, CA
Before you start with the online application here on Hyperlend, we wanted to leave you with a few tips that should help you handle the application and underwriting process better. Anyone who wants to get a title loan in Los Angeles should keep these in mind:
– Ensure your vehicle is wholly owned and the title is in your name without any liens or cosigners.
– Gather proof of residence and income to submit with your application. This can include recent pay stubs, bank statements, a mortgage or lease agreement. Any document which shows sufficient monthly income
– Be prepared for a 15 to 30 minute vehicle inspection at the lender's location or through an independent company they work with.
– Read over all loan terms and conditions before signing any contracts to fully understand the repayment expectations and potential fees. Also, ask the underwriter if there are additional fees for changes to the payment terms and monthly payments throughout the life of the loan.
Apply For Auto Title Loans In L.A. With Hyperlend
Considering these tips, you can ensure that you have a smooth car title loan experience in Los Angeles! Start your application today with a completely online title loan with Hyperlend. You can finish our application in less than 10 minutes or call us at 800-971-3022 to hear more about our secured lending offers. This can be from employment, disability benefits, child support, alimony, or any other regular source of income. Third, you'll need a valid driver's license. Finally, you'll need to bring your vehicle and its title into the lender's office for inspection.