If you need a quick and easy way to get some extra cash, a car title loan could be the perfect solution for you. These loans can give you access to the money that you need without having to deal with complex underwriting requirements or wait weeks for approval. On top of that, the qualifying requirements are minimal. As long as you have a vehicle with equity that's completely paid off you should qualify.
Car Title Loans In Riverside – Find A Lender Near Me
Many different lenders offer car title loans in Riverside, CA, so it can be difficult to know which is the best option. Here are some things that you should look for when choosing a lender:
1. Low rates. One of the most important things to consider when choosing a lender is what interest rate they will charge you. Ideally, your loan should have no more than 36% interest rate. The reason for this is that title loan financing charges for loans over 10k are capped at 36% in Riverside This will help keep your payments affordable and ensure that you can comfortably make your payments each month.
2. Flexible terms. Some lenders have strict repayment requirements, which can be problematic if you make payments difficult. A flexible lender will let you extend the length of your loan if you need to and may even offer an interest-free grace period for hardship cases. This will give you peace of mind that your financial situation won't ruin your credit score or cause unnecessary stress and worry.
3. Easy process. The best title loans are easy to apply for and get approved quickly without too much hassle or paperwork involved on your part. You should also be able to get funds within a few hours of applying in order to avoid any long wait times that are commonly seen with unsecured lenders. Again, having collateral to offer will make this a much easier process for you.
If you're interested in taking out a title loan, the best thing to do is to start looking around and comparing your options to find a lender that offers the right combination of low rates, flexible terms, and an easy application process. Here at Hyperlend, we know exactly what you need to qualify for auto equity loans in Riverside, CA, and our experienced team is here to help you find the lender that's right for you. We can take your online application in less than 10 minutes and get you on your way with a quick vehicle inspection and right after that you'll get the cash for the collateral in your car!
Requirements For Title Loans In Riverside, CA
If you're new to title loans, you may be wondering exactly what the requirements are and how they differ from other types of loans. Here's what you need to get a auto title loan in Riverside, CA:
 – A fully paid off vehicle free of liens or any existing loans on it. It must have no more than 125k miles on it and be free of any major dents, scratches or mechanical issues. You will also need a clear title in your name to qualify which will have to be submitted with your application before you can get approved for a car title loan in Riverside.
– A government-issued I.D. card such as a driver's license or passport to prove your identity matches what's on the pink slip. No expired licenses are allowed so you'll need to get updated documents at the Riverside DMV, or by visiting places like AAA or your insurance agent.
– Proof of residence, such as a utility bill or lease agreement in your name with the same address on it. If you prefer not to share this information there is an option to have a family member vouch for you and that seems to work fine..
If you're interested in taking out an auto title loan in Riverside, CA, follow our 3 simple steps below: 1) Enter Your Zip Code 2) Fill Out Our Quick And Easy Online Application 3) Get Approved For Up To $15000 With No Credit Check Or Job Requirements! We currently offer car title loans in Riverside and other parts of Southern California. Do you live closer to Los Angels County? That's no problem either. See how much you can get with an auto title loan in San Diego or Los Angeles!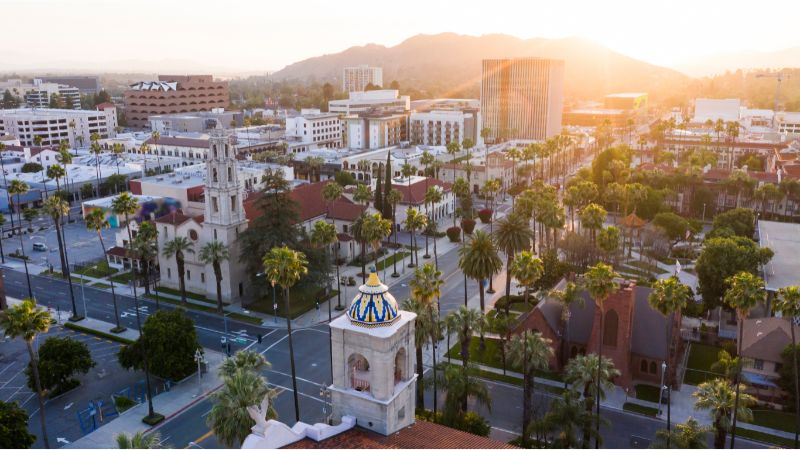 Benefits Of A Same Day Title Loan – Why Apply?
It Doesn't matter where you live in the Inland Empire. You will get the same benefits from a title loan near me in Riverside as everyone else. Here are some of our top advantages:
– No credit check required – Very lenient on past credit issues or even no reported history!
– Use your vehicle for collateral so we can give you 2x to 3x more cash than banks would ever offer because we don't need to worry about risk and chargebacks etc. (banks may be loaning millions but that doesn't mean they always pay their loans without trying to collect!) Banks are well known for this! In fact, it's expected that people in Riverside County have been declined for personal loans of just a few hundred dollars because they missed 1 or 2 payments on a credit card bill or had a single unplanned car repair that caused them to miss their payments for several months. The banks rarely give out personal loans unless you have been paying all your bills on time for years and years, even in that case, the bank will only loan you a percentage of your income because they don't want you not to pay it back!
– You get approved online within seconds when you fill out an application with Hyperlend! This is huge. If you've ever applied for any type of loan before, or credit cards then you know what we are talking about here. It seems like most other places take days sometimes if not weeks to approve an application. (local banks included) We can get it done in 10 minutes online or over the phone if needed! Besides the quick approval, you'll be able to get the loan proceeds that same day! Have the money sent to your bank's checking account by ACH, or pick up the funds in person with a licensed direct lender in Riverside.
Refinance Or Apply For A Title Loan Buyout In Riverside CA
There are many different types of auto title loan lenders online. Some have better rates than others and some do not even offer refinancing on a title loan so you'll need to look for the best fit for your situation. Most car title loans will allow you to refinance but you'll need to call them up or apply again with a new application. If this is not available we recommend looking somewhere else because it's important that your cash needs change and no one knows if they will in the future!
You can also consider asking about a loan buyout. This is where a new lender agrees to take over your loan from an existing car title lender. You can get a new personal loan and only have to pay one set of fees, interest rate, etc. A buyout or refinance is great for someone in Riverside who's struggling to make payments or already facing a loan default. But, these secured loans are more difficult to get than a normal title loan because lender's are generally concerned about taking on a new client who's already facing a repossession or dealing with a defaulted loan.
Auto Title Loans In Riverside. How Much Can I Get?
Most online title loan lenders in California offer up to $12,000 for auto title loans in Riverside County. Of course, the amount will also vary with different factors such as the value of your vehicle or how much equity we would be able to use as collateral . You can find out what it is based on by entering your zip code into our online application form which gives you a free estimate instantly!
Are you ready to apply for an online title loan in Riverside with Hyperlend? We give you multiple options to apply with us and all the information you need to decide which is best for your needs. If you're in the area and need cash, apply now or give us a call! We are here to answer any questions about title loans and we can help set up an appointment at a time that's convenient for you.